SITCOM SAMPLER
"SITCOM SAMPLER", TV sitcoms of the 50s and 60s
WATCH MORE SHOWS IN LESS TIME.
If you wish you had more time to watch all of those classic TV sitcoms of the 50s and 60s, this program is right up your alley. We have sorted through hours and hours of shows, and have edited together some of the funniest moments for this 96-minute program. We have also included several "new" comedy routines, which mimic the style of the old black-and-white sitcoms from the earliest days of television.
SITCOM SAMPLER includes film clips from:
Burns and Allen
Jack Benny Show
Life of Riley
Our Miss Brooks
My Hero (Love that Bob)
I Married Joan
Ozzie and Harriet
Susie (Private Secretary)
Topper
Trouble With Father
Beverly Hillbillies
Petticoat Junction
Andy Griffith
Make Room For Daddy
Dick van Dyke Show
Mister Ed
The Lucy Show
and several "new" comedy routines, listed to the right.

RUNNING TIME: 96-minutes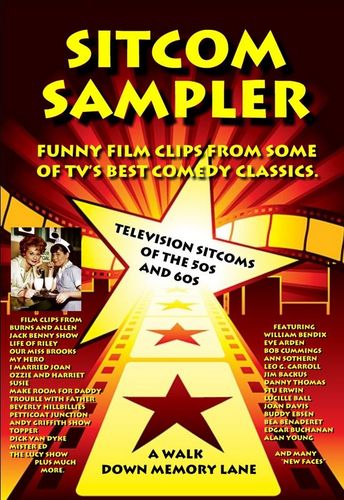 "Sitcom Sampler" includes seven NEW comedy shorts, produced and directed by Ray and Migdalia Etheridge:
"SECOND HONEYMOON"
starring
Heather Stacey and
Kyle Marra
"ANNIVERSARY"
starring
Tiffany Underwood and
Mike Herrin
Festival Screenings:
Tulalip Hibulb Cultural Cntr, Marysville WA.
"CHRISTMAS EVE"
starring
Gregory Lee Cason and
Lara Seidel
"DINNER GUESTS"
starring
Frank Eramo and
Lisa Leonard
"CONRAD'S WILL"
starring
Bradley and Aimee Bowen
"THE HORSE RACE"
starring
Ray Alger and
Cherie Mason
"INSURANCE"
starring
Madison Conradis and
Zackery Roundy.
Festival Screenings:
15-Minutes of Fame, FL


SAN ANTONIO COMEDY FILM FESTIVAL, Texas

SAN ANTONIO INDIE SLAM, Texas

BAD FILM FESTIVAL, NY