"Stoned Dead" (2006)
"Stoned Dead" (2006) 94-minutes, aka "Zombie Drug Lord"
Two missionaries are lost, and presumed dead in the jungles of Panama. In New York, a pair of private investigators are hired to find them. Their only clue is a mysterious note with the word "Gila". But what does it mean? Is it a person?...a place?...an animal?...a river? The natives speak of "Gila" only in whispers. Some say that it is a place "of pure evil". Others call it "the resting place of the devil himself". The investigators seem to step back in time as they find themselves in the middle of a dense jungle filled with exotic animals, aztec ruins, and an army of "walking dead". Produced by Migdalia Etheridge. Written and Directed by Ray Etheridge. A Golden West Films presentation.
Cast:
Oscar A.Diaz, Ben Daniels, David William Cabrera; Sergio Vigano

Film Festivals:
Miami Independent Film & Music Festival (2006); Delray Beach Film Festival (2007)
Official website, Trailer, IMDB, Purchase DVD, Music Video
Also available on Vimeo and Udu Digital.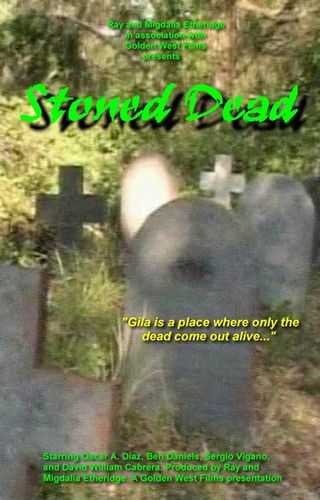 There is also a shorter, tightly edited version of "Stoned Dead" which is called "ZOMBIE DRUG LORD". Available on AMAZON PRIME.