"Bad Spirits" (2007)
"Bad Spirits" (2007) 74-minutes
In this exciting MYSTERY/SUSPENSE tale, Jimmy Reed and Bobby Hanson are two adventurers in search of a lost pioneer homestead. With the help of an old surveyor's log, they map a journey into the heart of the Florida everglades, where they find themselves on an uncharted island. A mysterious indian who calls himself "Black Elk" appears in the night, and informs them that the island is, indeed, the site of the pioneer homestead, but it is also an indian burial ground. The indian disappears with their raft, and all of their supplies. Now stranded on a deserted island, they struggle for survival against hungry alligators, an ancient indian curse, and ghosts of the past. Produced by Migdalia Etheridge. Written and Directed by Ray Etheridge. A Golden West Films presentation.
Cast:
Albert Campillo, Adrian Ramos, Amadeo Falgiatore
Official website, Trailer, IMDB, Purchase DVD, Music Video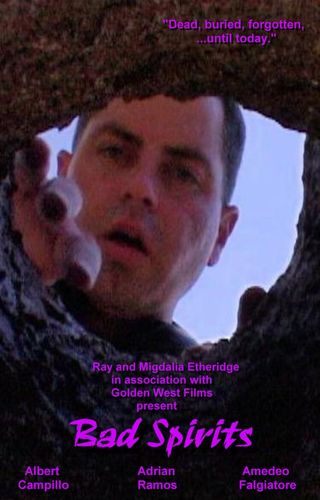 There is also a shortened, tightly edited version of "Bad Spirits" which is called "BURIAL ISLAND". Available on Amazon Prime.